Gastroenterologists take care of patients with diseases and disorders of the digestive tract including the esophagus, stomach, intestines, liver and pancreas. They also are trained in endoscopy, a non-surgical procedure which uses a flexible tube with a light and camera attached to examine the inside of the digestive/intestinal tract.
Follow My Health
An innovative health management solution that empowers patients to take a more active role in managing their care.
Login Now
Procedures Performed.
Diseases treated include IBS (irritable bowel syndrome), IBD (Crohn's & Ulcerative Colitis), PUD (peptic ulcer disease), GERD (acid reflux), hepatitis and pancreatitis.
Colonoscopy
Used to examine the lining of the colon (large bowel) to remove polyps, identify bleeding sites and diagnose colitis or other problems.
Upper endoscopy (EGD)
Used to examine the lining of the upper gastrointestinal tract including the esophagus, stomach and duodenum.
Endoscopic ultrasound (EUS)
Combines endoscopy and ultrasound to examine the digestive tract and surrounding organs. It is helpful for cancer staging of the esophagus, stomach, pancreas and rectum. Also used to examine bile duct abnormalities of the gallbladder, pancreas or liver tumors. Can be utilized to obtain tissue samples with a special needle.
Endoscopic retrograde cholangiopancreatography (ERCP)
A special technique to evaluate the drainage ducts of the gallbladder, pancreas and liver. Used to remove gallstones and evaluate for tumors.
Small bowel capsule endoscopy (Capsule endoscopy)
A wireless video camera small enough to swallow to obtain imaging of the small intestine. It assists in diagnosing gastrointestinal conditions such as bleeding, tumors, Crohn's disease or small bowel ulcerations.
Argon plasma coagulation (APC)
A method of hemostasis (bleeding control) in the upper or lower gastrointestinal tract caused by angiodysplasia (abnormal blood vessels) or radiation telangiectasia caused by radiation therapy of prostate cancer.
---
Have Questions About Our Outpatient Procedures?
Download our list of frequently asked questions.
Get The FAQ
---
Download Patient Forms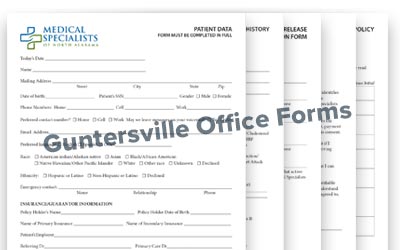 Guntersville Office Patient Forms
Included in this package:
Patient Data Form
Personal History Form
HIPAA Medical Release Form
Office Policy
Medical Release Form - Guntersville Office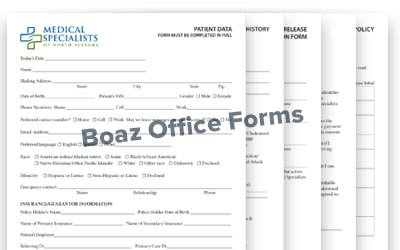 Boaz Office Patient Forms
Included in this package:
Patient Data Form
Personal History Form
HIPAA Medical Release Form
Office Policy
Medical Release Form - Boaz Office
---
---
Marshall North Location
55 Rowe Drive, Suite C
Guntersville, AL 35976
Tel: (256) 571-8810
Fax: (256) 571-8880
Marshall South Location
2525 US Highway 431
Boaz, AL 35957
Tel: (256) 840-4840
Fax: (256) 840-4844